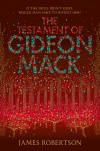 The Testament of Gideon Mack
published by Hamish Hamilton, is available from all good bookstores in the real world and online.
For another interview with James Robertson and notes on The Testament of Gideon Mack for reading groups visit The VP Book Club.
Contact Us
If you have any comments on
The Testament of Gideon Mack
, the location of Monimaskit, or wish to share your thoughts on Gideon Mack's alleged meeting with the Devil, please complete this form.
Comments may be added to this website, or they may not. Who knows? While we abhor the diabolical, we have no objection to the hysterical. Your thoughts are very welcome. Fields marked by
*
are required.